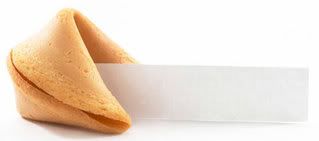 The one good thing about repeating your mistakes is that you know when to cringe.
This was perhaps the truest thing I've ever read from a fortune cookie!
I am about to face my nemesis....the grocery store...and arm myself with whatever may be needed to feed an undetermined number of people this holiday weekend. The last time I did this, I bought for what felt like 40 people and had, at most, 4 guests at any given time.
No one was rude and stood us up or didn't RSVP. It wasn't that kind of weekend and this one won't be either. Winter holiday dinners aren't necessarily formal, but I do like to know how many to expect so that I can figure out seating and place settings. Summer is so much more casual....pull up a chair, go eat on the porch, grab a Chinet plate if the Corelle dishes are all in use and I have plastic forks for desserts over there on the hutch.
I have more to say on the subject of food and entertaining, but I'll save that for another post. I
really
need to get the shopping done. My goal is to have enough for the kids if they show up, but not so much that Bill and I will be forced to eat leftovers for an entire week.
Even summertime favorites like baked beans and corn on the cob can seem like a mistake and make a person cringe after the third day.
P.S. It has been a busy week and I haven't been visiting blogs but I hope to remedy that over the next few days. Don't you hate when stuff-ya-gotta-do interferes with your fun?